To Climb at TreeHoppers You Must
Read and understand all instructions

Receive specific training in using all safety and park equipment (provided free of charge after registration)

Understand and accept the risks involved

(With the exception of the Little Lemurs Course) Be at least 5 years old and capable of performing safety tasks independently (5 & 6 year olds must be accompanied by an adult, at a 1 adult to 1 child ratio, with the exception of the Little Lemurs Course)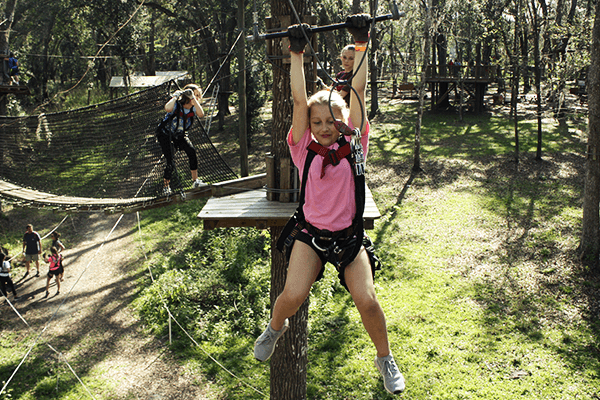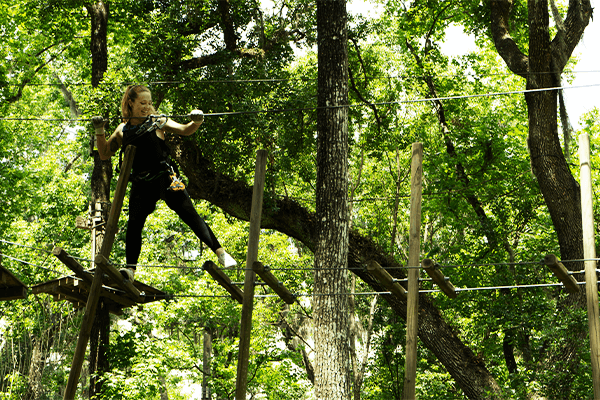 Participation Agreement & Liability Release Forms
Each climber must complete a waiver before each climb at TreeHoppers. Climbing without correctly completing a waiver will be considered trespassing.
For all climbers under the age of 18, you must have a parent/guardian signature on your waiver
Age Requirements for All Courses
"Supervised" means an adult (18+) guiding up to 10 children while on the ground or while climbing with the children
"With Adult" means an adult (18+) climbing with up to 2 children (7 & older) or 1 young child (5 or 6 years old)
While Using the Park You Must
Use all equipment safely and as directed

Always have at least one safety hook attached to the course

Start with a yellow or green course

Must complete a blue course before going onto the black course

Must complete the black course before going onto the double black course

Be at least 15 years old to climb on a double black course

Never use an element when another person is on it – only one person is allowed on an element at a time

Never have more than 3 people on a platform

Never switch from your current course to another

Weigh less than 265 pounds
Never share your harness

Not wear sandals or flip flops – you must wear closed-toed shoes or sneakers

Never be under the influence of alcohol or drugs

Never carry phones, cameras or any other objects that may fall or distract you

Secure any loose hair, clothing or objects that can get caught in ropes or zip lines

Not smoke in the park

Carry out all objects that you bring into the park

Keep the forest clean by disposing of all trash in designated receptacles

Stay on the marked paths – do not wander into the forest

Obey instructions given by park monitors and guides
Our management reserves the right to ask anyone in breach of these rules to leave TreeHoppers. Please note that during extreme weather conditions, you may be required to evacuate the course for your safety.
TreeHoppers set the gold standard for aerial adventure park course construction and management in Central Florida, with the following:
Our course was engineered to adhere to all industry standards for maximum loads and forces.

TreeHoppers was constructed by an expert team of fabricators, meeting or exceeding industry standard construction.

Each of our park monitors and guides receive a rigorous, ACCT-derived training program to fully prepare them for any scenario they may encounter.

Daily inspections of both aerial and ground elements take place before a single customer climbs in the park.
Climbing harnesses are provided to each participant. These are the same types of harnesses used by professional climbers throughout the world. Each customer is personally fitted by our expert park monitors and guides to ensure a snug, safe fit.

We use the high-quality KONG COUDOU PRO continuous belay climbing system. Once you enter the lifeline, it is impossible to accidentally disconnect before the end of the course. It is very easy to use and receives the best classification (class E PAH norms) for maximum safety as all our devices are tested & checked piece by piece in accordance with the procedures of the Quality System certified according to the UNI EN ISO 9001 standard.
To ensure our course monitors and guides are prepared for any situation, each receives a rigorous, ACCT-derived training program.
Upon arrival, our course monitors and guides will personally fit you with a safety harness. You'll then receive an orientation where you'll be fully briefed on all of the safety procedures you'll use throughout your experience.
Then you'll be taken to the top of our starting platform to begin your adventure.
Throughout your day, our course monitors and guides will be there to guarantee your safety and fun!
All TreeHoppers courses are designed for self-discovery, making "on-the-course" guides unnecessary when compared to many other zip line and adventure parks throughout the world.